About the plant :
Drosera capillaris is one of the two known Drosera species of French Guyana.
It grows in savanas. Drosera biotopes are mostly covered with short grasses and schrubs.
Temperatures are 26°C during rainy season, 30/32°C during dry season.
The soil and water layer temperatures are the same as the air temperatures.

Plants can be found anywhere, mostly in short groups of individuals.
Plants can be observed at any state of growth, from the minute small individuum
to the adult plant in full bloom.
During dry season, the plants die away and survive the extreme drought of the soil as seeds.
The seed is transported by the water streams during the wet season.
During wet season, some plants may thrive covered by a thin layer of water.
It's difficult to find plants in seed ; most of the seed pods were empty, or still green and growing...
Also, most of the dry racemes were broken.

Drosera capillaris displays different leaf patterns, depending of it's biotope of origin.
Some plants have more rounded leaves, some others have more spathulate leaves.
But all the plants have one in common :
the raceme wich supports the flowers is completely glabrous.

Adult plants have a diameter of 4cm. One flower open after the other, best time to see the plants
in bloom is around 11h in the morning. The raceme will held 5 to 7 flowers, color is light pink to pink.
I've never observed a white flovered plants, nore an anthocyanin free plant ( totaly green plant)


Here are some pictures of plants after the rainy season :
the soil is about to dry out, the plants have done their life cycle,
and are now going to enter the dry season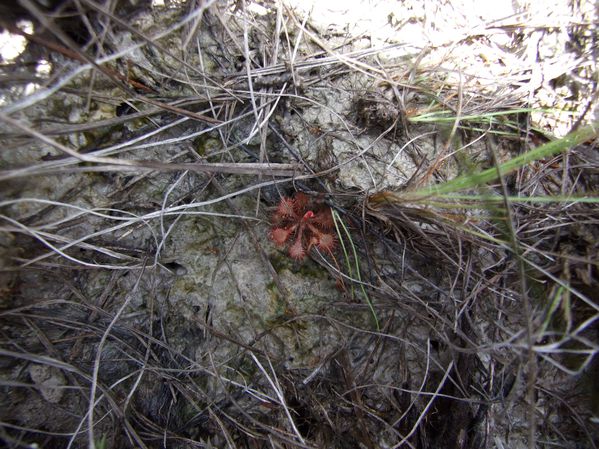 During the wet season, the soil is covered by slimmy algae ; this film never cover the plants.
Notice that the grasses are rather small, even after a rainy period.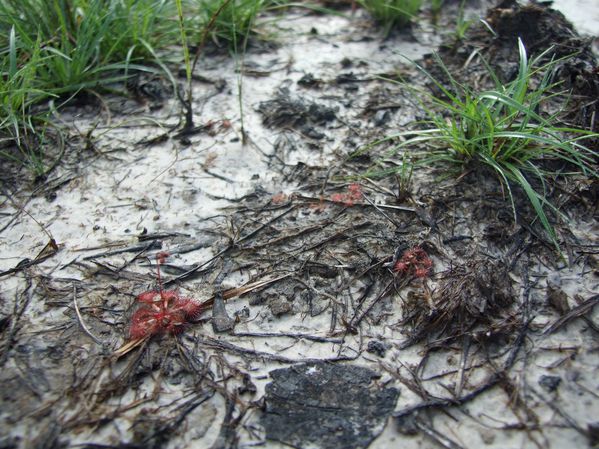 You'll see seedpods on the next pictures. Believe it or not, it's impossible to find an intact seed capsule...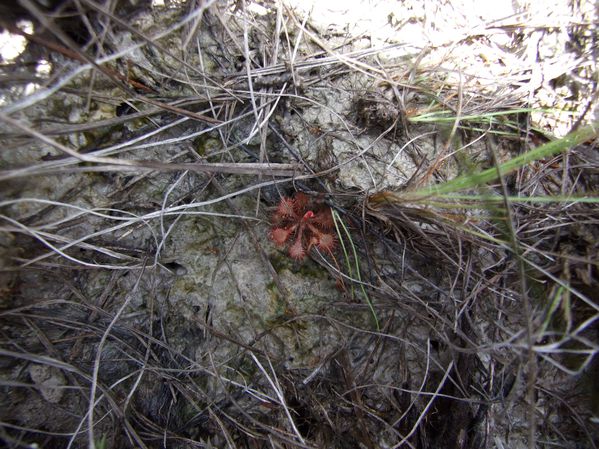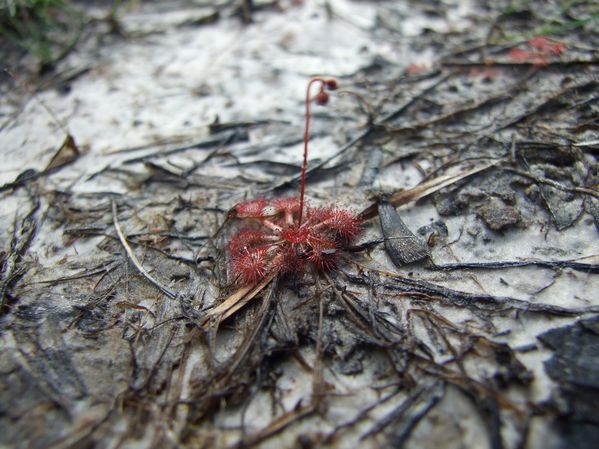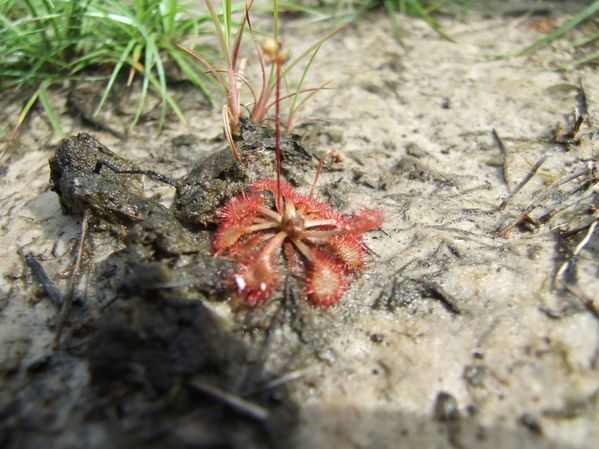 In artificial conditions, the plant disapear during the dry season when grown outdoors,
even if the soil is maintained wet (pers.obs.)

The plants grow in a soil wich is a mix of very thin white sand and microscopic small mud particles.
When the soil is covered with water, it's level will never exceed 1 to 2cm in Drosera stations.